I was blessed to spend the Thanksgiving holiday in London, Ontario (Canada) speaking at the First Annual Accelerated Impact Conference on Evangelism hosted by friends, Bobby & Cheryl Sullivan at New Life Centre Church. Joining me on this trip was Pastor Terry Shuff of Raven Midwest.
This was a tremendous opportunity to expose some people to the Biblical mandate to reach this world for just---for the first time! Many attending expressed that they had never been involved in activel reaching out to the lost and dying and this conference provided them an opportunity to be ignited with the compassion to reach out.
Bobby certainly "worked me" good during the conference! Of the ten scheduled sessions, he had me speaking during five of them! But...I loved every minute of it :) To have the chance to share the passion of one's heart to people coming from across Canada was a true blessing.
(Pictures Clockwise from Top left) Pastor Troy sharing a word with the attendees. The altars were continually filled during times of prayer and ministry. Cheryl Sullivan was a true blessing as she led worship during the conference. Bobby addresses the crowd during one of his sessions. "A little time bowing before the Lord God of Hosts"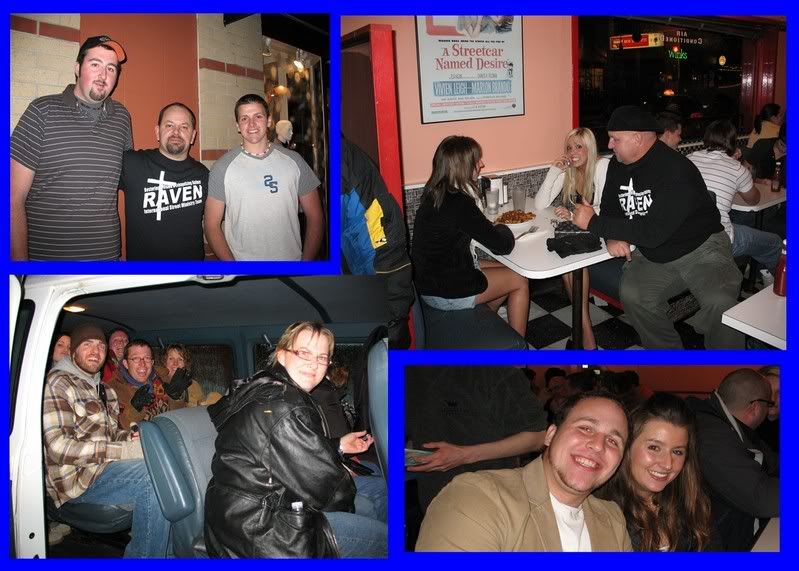 One of the highlights of the conference was being able to take teams out to the streets following the Friday evening service. We invaded an area that in near Western Ontario University and witnessed to many college students.
(Pictures Clockwise from Top left) Pastor Troy with two students from the University. They were both shocked to have someone there on the streets sharing Jesus with them! They said that they had NEVER seen someone doing that in their lives! I was blessed to minister at length and to pray for them.
Pastor Terry sits and witnesses to two young women in a packed cafe. The blonde was the daughter of a pastor and he confronted her about her life and the seductive clothing that she was wearing. She admitted that she was wrong and was not following the Lord in the way that she should.
These two students were raised Catholic, but were obviously not very committed to it this night! The young man was very intoxicated when Pastor Troy sat down next to them, but they were both VERY open to the Word of God as it came forth. As the issue of "drunkards not entering the Kingdom of Heaven" came up, he came under heavy conviction and the young woman was earnestly seeking something (Someone) beyond the dead religion that she had been raised in.
Part of the team loads up in the Midwest Raven Van that we drove the 6 1/2 hours into Canada!
We have already had inquiries concerning starting a RAVEN CANADA to reach out to our Northern Neighbors!!