December 15: The team along with 3200 toys made it across the border into Tijuana, Mexico today. It was truly a miracle that all the vehicles made it through without being stopped by the Mexican authorities who would have turned them around had they seen the amount of items being brought into the county. Thank all of you who prayed for safe passage!
The "Happy Birthday Jesus" Christmas party for the needy children in Tijuana will be all day Saturday. In addition to the thousands of toys being distributed, there will also be hundreds of free hot dogs served, fun things for the children, face painting, a bounce house, and especially lots of Jesus being shared!
The team will also being taking food and toys to the many children that call the dump grounds "home." There are a staggering amount of families and young children who live in the squalor of the Tijuana dumps. They do not have the benefit of electricity, running water, sewage disposal, or proper nutrition. On Saturday the team will be taking HOPE into an area that only knows hopelessness. Thank all of you who have prayed and given to make this possible.


I flew into New Orleans on Dec. 13th to meet up with Billy McInroy to make the arrangements for the camp location for the Mardi Gras 2007 outreach scheduled for Feb. 16-20 there in New Orleans. Bro. Billy arranged for us to utilize the facilities of the Williams Ave Baptist Church for this year's outreach. These are great facilities that will serve as an ideal base during the outreach.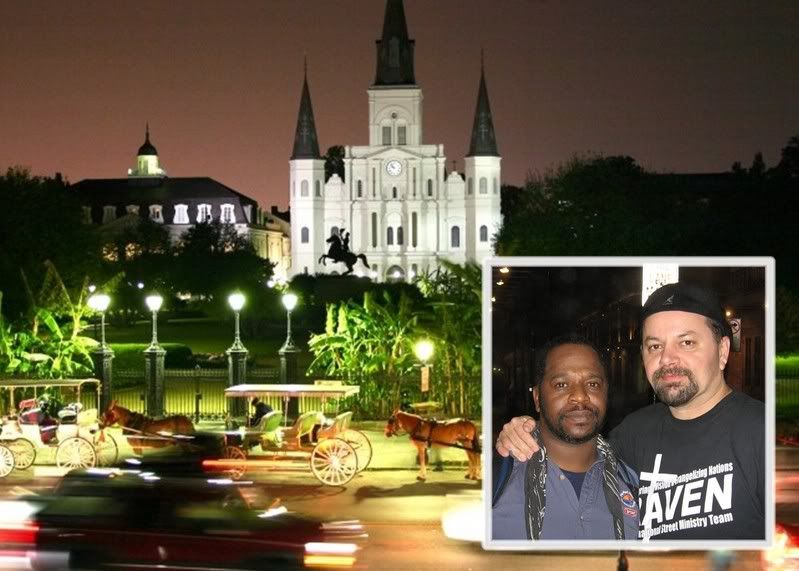 Pastor Don Eskine and myself also hit Bourbon Street till early in the morning the day of my arrival and had a great time witnessing for Jesus to those in the French Quarter. We immediately had to intervene in a fight between a drug dealer and a customer. Once we started approaching, the dealer took off around the corner and we attempted to minister to the almost-customer.
As we made our way to Bourbon Street we encountered the drug dealer and spent the next hour witnessing to him! At first very reluctant and resistent---once the Spirit of God hit him, he couldn't get himself to leave! We were able to share the Word in detail with him and pray for him before parting.


Pastor Sam and Lucy will be leading the team into York, Pennsylvania where they anticipate ministering to around 1500 people on Saturday the 15th! They are takign toys to teenagers in the area and sharing Jesus with the crowd that will be gathered there as well.


Pastor Terry & Eileen Shuff and Pastor Lance & Leigh Prathaftakis are taking a team of about 30 to conduct the Homeless Christmas in the Lower Wacker section of Chicago on Saturday the 15th. They are taking a full Christmas Dinner out to serve on tables & chairs to the homeless there and distribute blankets and warm clothing as well.



Pastor Todd & Christy Bohn held a Post Christmas Party on Friday December 15th that brought out many people from the local community that were unchurched. The local Wells Fargo Bank allowed the team to use their banquet facility free of charge for this event.
Pastor Meredith Lindsey of Raven Fairfield had back surgery last week to correct a problem with dumbness in his legs. He is scheduled to undergo a second procedure to eleminate chronic pain on the 29th. Please keep him in prayer that God will bring a rapid and complete healing to this awesome soul-winner! We need him on the battle field!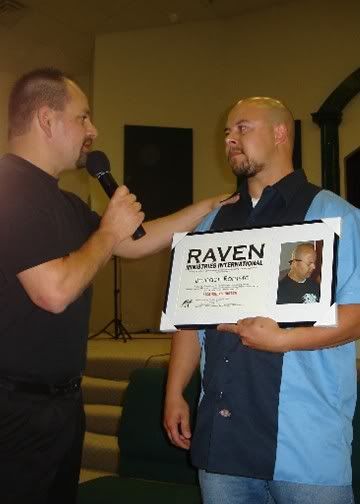 Pastor Brandon Romero of Raven Southwest celebrated his 30th birthday this month! God is doing some incredible things in and through this young man's life. Please keep he, his wife Christy and son, Cole in your prayers as they find themselves on the frontlines in Albuquerque and in the cross-hairs of the enemy who will stop at nothing to hinder the work of the ministry.


Pastor Alex Hill of Raven Austin celebrated his 35th birthday this month! Pastor Alex is a powerful man of God and is doing a great job in establishing Raven Austin within a local fellowship there in the city. Pray for the continuation and expansion of this work and in the church (Horizon Fellowship) that he is equipping for this task.