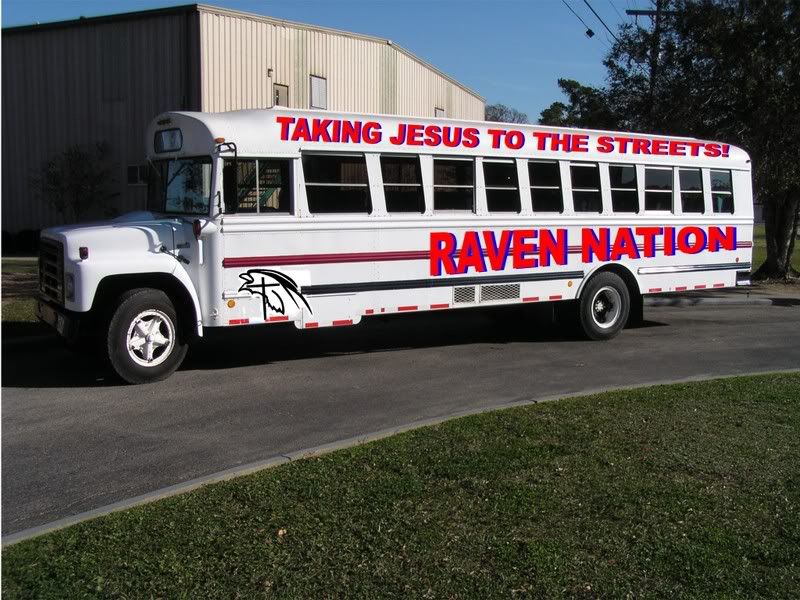 We are in desperate need of a bus for our Raven Texas Teams and we have found one that is in good shape that would work perfectly in carrying the "Soul Patrol" into the Harvest Fileds!
The bus pictured above (I superimposed our logo on it!) was being offered for sale by a Christian School in Texas for $3500. The bus had a new engine put in it a couple of years ago, it has an A/C, and it also has the high-backed charter-type seats as well. The tires are all new ($1200-1800) and the bus is ready to roll!
I contacted the seller and told them what we were all about and they have offered to let us have the bus for only $2500! This is an unbelievable price--but it won't last long at this price!
Our RAVEN Teams in Texas had talked to a charter company about driving the teams from Amarillo, Post, and Austin to New Orleans for our annual Mardi Gras Outreach---and the cost was approximately $5,000! That is DOUBLE what it would cost to just outright buy a bus that we can utilize year after year and for various other outreaches as well.
HERE IS THE CHALLENGE: We need $2500 to purchase the bus
Here is how we are believing that we'll be able to raise the necessary funds to get it done.
$500.00 from a man in Amarillo, Texas that pledged this amount for a bus when we found one
$500.00 raised by RAVEN AMARILLO
$500.00 raised by RAVEN POST, Tx
$500.00 raised by our other teams (Gulf Coast, East Coast, West Coast, Midwest, Austin & Albuquerque, Fairfield)
$500.oo raised by RAVEN INTERNATIONAL (That's me and you!)
GRAND TOTAL: $2500.00
Will you help me raise the $500 to purchase this bus to carry SOUL-jahs into the battle field?
You can give by clicking on the "DONATE" icon on the right hand side of this page and placing "Raven Bus" in the notation---or email me at raven@biggrace.com and let me know that you are putting something in the mail to help! We can do this if we all work together!
Blessings,
Pastor Troy