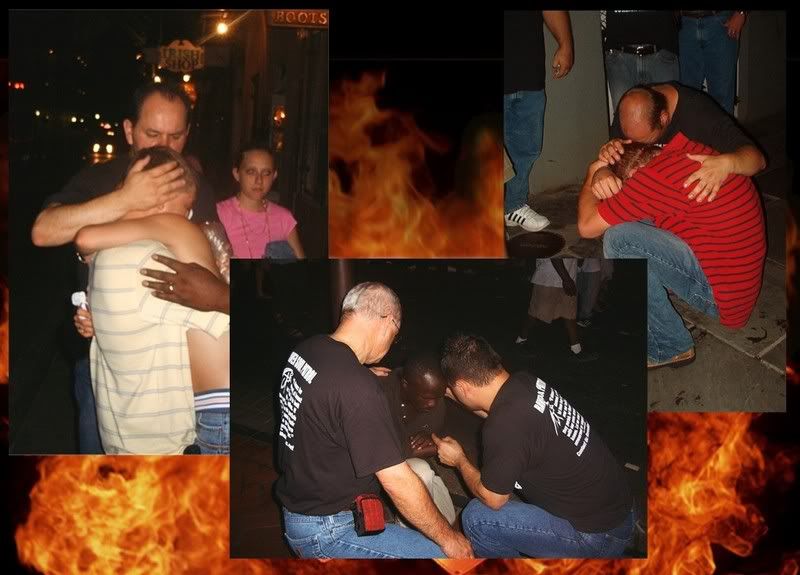 Let's Take The Time To Look for Mercy!
Living in the City of New Orleans for about three years, I would hear and see the term
langinappe
(pronounced lon-yop) regularly. I soon asked, and found out that it was a Cajun word meaning,
"a little something extra."

I want to deposit a little something extra in you today from the Word of God as we spend the next week seeking Him, His will, fresh vision, anointing and the miraculous for 2007.
I kind of see the Book of Jude as "a little something extra" as it relates to the Word of God. Here we have just short letter (only one chapter and twenty-five verses comprise this epistle) that is so rich (like good Cajun food) and truly serves to cause me to "lick my spiritual lips" as I "taste and see that He is good." (Ps 34:8)
Jude 1:21
says, "
Keep yourselves
in the love of God, looking for the mercy of our Lord Jesus Christ unto eternal life."
I want to give you a quick little word study that, hopefully, you will find both interesting and useful to your walk with the Lord and in your life of seeking and serving Jesus daily.
Jude writes in verse (21) of this letter to
"Keep yourself"
in the love of God. I find this interesting in light of other verses of scripture that say things like:
Romans 8:35-39
"Who shall separate us from the love of Christ? Shall tribulation, or distress, or persecution, or famine, or nakedness, or peril, or sword? As it is written: "For Your sake we are killed all day long; we are accounted as sheep for the slaughter." Yet in all these things we are more than conquerors through Him who loved us. For I am persuaded that neither death nor life, nor angels nor principalities nor powers, nor things present nor things to come, nor height nor depth, nor any other created thing, shall be able to separate us from the love of God which is in Christ Jesus our Lord."
If I am told to
keep myself
in the love of God, then how is it that Paul told the Church at Rome that none of these things could remove or separate us from this love? Is it my responsibility to
keep and maintain my position
in His love? Is being
in the love of God
contingent upon something that I can say or do? Well, the answer to that is,
"Yes & No."

While the love of God has been extended to all
(John 3:16),
even the lost and unregenerate, and the love of God is "shed abroad in our hearts through the Holy Spirit"
(Romans 5:5)—
what Jude is talking about here is not the
positional
agape love, but rather the
relational
agape love. These are very similar and sometimes indistinguishable from one another, but within each aspect of these manifestations of "love" is a uniquely valuable truth and application that the other does not as readily display.
Jude 1:21
says, "
Keep yourselves
in the love of God…"
This keep is the Greek word
tereo
which means "to attend to, carefully guard, and to keep oneself in the state of."
So, Jude is saying
, "Listen to me! You have got to come to the place where you carefully stand guard over the love of God in your life. Be attentive! Don't grow cold or lazy in it. You have got to endeavor to keep yourself in the state of being that He brought you to in faith."
How many times have you found yourself guilty of the same indictment levied against the Church at Ephesus in
Revelation 2:4
"I hold this against you: You have
forsaken
your first love."
It could be rendered
: "You have not guarded it! You have not maintained a careful attentiveness over the place that I have graciously brought you to! I have this against you."
That
forsaken
is used elsewhere in the New Testament to describe
divorce!
Have you filed for spiritual divorce from the Bridegroom (Jesus)? Or maybe you have just considered it legal separation!
Have you found yourself lazy, complacent or altogether reckless in regards to your relationship with God? Has this reckless and precarious attitude affected your prayer life; your dedication to the study of God's Word or your responsibility to share your faith with others?
If so, then you have got to
"get yourself back on guard"
and this is the time and season to do just that! While your actions will not change the
positional
status of God's unfailing love towards you—it will adversely impact your
relational
status with Him.
Now, having said that, look at this admonition to "
Keep yourselves
in the love of God" in comparison to what Jude says just three verses later:
Jude 1:24
"Now
unto Him that is able to keep you from falling
, and to present you faultless before the presence of his glory with exceeding joy."
What is this?
First he instructs us to
"keep ourselves"
and now he says that "(Jesus) is able to
keep you
from falling." If these seem contradictory to you on the surface—then let's peel back the veneer to look a little deeper into what he is telling them in this letter.
Langinappe
In verse (21) he is speaking of the tereo type of
"keeping"
(to attend to, carefully guard, and to keep oneself in the state of), but in verse (24) he utilizes a different word altogether. This "keep" is the Greek word
phulasso
which means:
"To protect or to preserve another from being impaired by something"
Because we have entered into covenant with Christ through the New Birth—we have become
partners
in this relationship. Throughout the Word of God, the marriage covenant is utilized as a type of
relationship
that we have with Jesus as believers.
As we, His bride,
submit
ourselves to Him (Eph 5:22) through the
tereo
or
guarding of that relationship
, we experience the benefit of the
phulasso
or being
guarded by Him
in the relationship!
John 15:10
"
If you keep My commandments
, you will
abide
in
My love
, just as I have kept My Father's commandments and abide in His love."
To "abide" is to
"have relational expectancy"
not
"positional expectancy."
When
I am obedient to this covenant relationship with Jesus then I reap the inherent benefit of being kept in His love!
Because we are spiritually married to the Lord, we (by virtue of that covenant) are "in His house", this is the
positional place
. But if that is the extent of our relationship with Him—then it becomes like living in a house and being in a marriage where there is absolutely no reciprocating love towards one another.
It becomes a "you live your life and I will live my life" and we'll just stay together for the "sake of the children" type of relationship.
THAT
is not what He intended for His bride (you and I). We must endeavor to abide in this
relational expectancy
that accompanies the
tereo
"keep(ing) of ourselves in the love of God."
My "keeping"
- "to attending to, carefully guarding, and to keeping myself in the state of" ensures the full benefit of
His "keeping"
- "To protect or to preserve another from being impaired by something."
Seasons of fasting, prayer, intercession and consecration unto the Lord should get us refocused and recommitted to our relationship with Jesus.
Think of these times like "renewing your vows" to the Lord!
Jude 1:21
says, "
Keep yourselves
in the love of God,
looking for the mercy
of our Lord Jesus Christ unto eternal life."
Once I get the revelation and make the application of what it means and what it takes to "keep myself in His love" then I have positioned or established myself to:
"look for the mercy of our Lord Jesus."
Several years ago, while I was still pastoring in Texas, I found myself praying and seeking God in my study. This was a time not unlike any other time of prayer and preparation.
I spent a time of worship and adoration. I asked Him to examine my heart. I did an inventory of my thoughts or attitudes towards others and asked the Lord Jesus to forgive me as I forgave others. For all intents and purposes, things were very typical and ordinary…until the Holy Spirit spoke something to my heart the truly changed the way that I thought!
This may seem simple or even elementary to you, but for me, it became the catalyst for the way that I see and do the ministry of the Lord Jesus Christ.
He very gently said to me
,
"On the day of judgment, would you be willing to receive from Me, only as much mercy as you have demonstrated to others?"
Immediately,
Matthew 5:7
came to mind, "Blessed are the
merciful
: for
they
shall obtain
mercy
."
He was revealing to me, that mercy is measured back, commensurate to how it is meted out!Luke 6:36-38
"
Be
ye therefore
mercifu
l, as your
Father
also is
merciful
…give, and it shall be given unto you; good measure, pressed down, and shaken together, and running over, shall men give into your bosom. For with the
same measure
that ye mete withal it shall be measured to you again."
We have all heard people use this scripture (out of context) in relationship to finances, but seldom (if ever) in the proper
context
of love and mercy!
He isn't asking us to
do
mercy, He is asking us to
be
mercy! I don't want it to be a passing
activity
that I engage myself in. I want it to be the
outflow
of the person of Christ made manifest through my life because I have
established myself and kept myself (relationally) in His love!

I want to measure out a full measure of
mercy
-- that a full measure might be measured out to me on that day. I want to find myself in the
tireless pursuit of the mercy of God!

There are two questions that must be asked in regards to this:

1) What is mercy?
2) What is the means of obtaining it?
Mercy
, by definition, is
to have or to demonstrate compassion towards someone else.
This compassion takes on various looks and manifestations in relationship to the need of the recipient.
Mercy for the hungry is something to eat.
Mercy for the homeless is a place to sleep.
Mercy for the broken is to be comforted.
Mercy for the bound and oppressed is deliverance.
Regardless of how mercy is manifested, there is one thing for certain;
It is this mercy or compassion that moves Jesus!
Matthew 9:36
"But when he saw the multitudes, he was
moved with compassion
on them, because they fainted, and were scattered abroad, as sheep having no shepherd."
If I want God to "move on my behalf" during my times of prayer and fasting and seeking His face—
then I have got to learn to move in the realm that moves Him! That realm is mercy
!
Now for the second question: How is mercy released into the life of the believer?Proverbs 28:13
"He that covereth his sins shall not prosper:
but whoso confesseth and forsaketh them shall have mercy."
Another translation reads,
"He who conceals his sins does not prosper, but whoever confesses and renounces them finds mercy."
If you are "looking for mercy" then you look no further than the other side of repentance! During this season of consecration, we have many (including ourselves) that are crying out to God to move beyond the "missed marks" (sin) and find victory over every bondage, weakness, infirmity, stronghold, and struggle.
We know that taking these things to Him with a sincere and repentant heart is part of our
tereo
or means "to attend to, carefully guard, and to keep oneself in the state of" relational love and benefit of the Lord Jesus.
Our confession and subsequent forsaking of the things that would serve to impede the progress of our relationship with Him and the ensuing victory
are the keys
to finding the mercy of God that we have been looking for!
Humility is the measuring cup for the merciful.Hebrews 4:15-16
"For we do not have a high priest (Jesus) who is unable to sympathize with our weaknesses, but we have one who has been tempted in every way, just as we are-- yet was without sin. Let us then approach the throne of grace with confidence, so that we may
receive mercy
and find grace to help us in our time of need."
1 Peter 2:9-10
"But you are a chosen people, a royal priesthood, a holy nation, a people belonging to God, that you may declare the praises of him who called you out of darkness into his wonderful light. Once you were not a people, but now you are the people of God; once you had not received mercy,
but now you have received mercy
."
Conclusion: Saints, lets stand guard and be found carefully attending to our relationship with Jesus so that we can rest in the assurance that another (Jesus) will protect and preserve us from being impeded by anything (or anyone) that would keep us from the mercy of God that causes Him to move on our behalf for every need and situation that we may find ourselves in.

Langinappe, a little something extra!

Blessings,
Pastor Troy D. Bohn