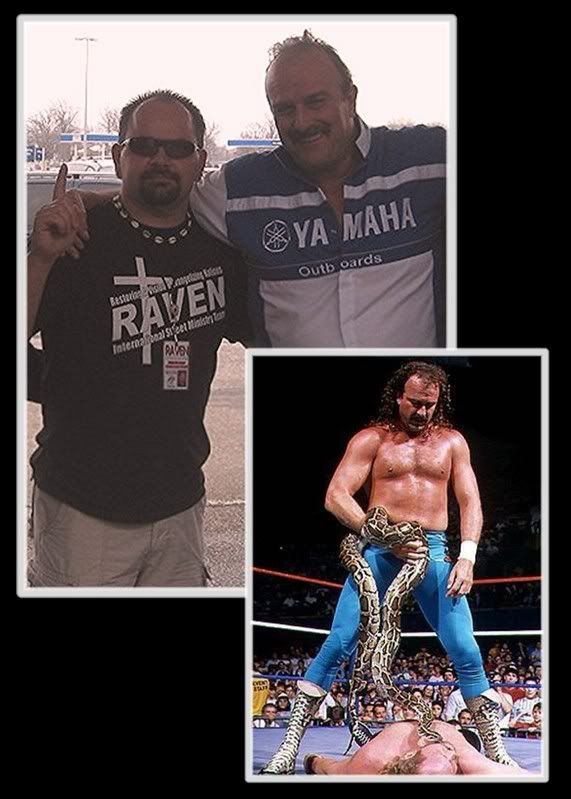 As a kid I was a HUGE pro wrestling fan. I loved the old days of the Von Erich's in Dallas' Sportatorium and watching Gordon Solie commentate the old NWA matches from Atlanta when guys like the "Junk Yard Dog", "The Free Birds", and Tommy "Wild Fire" Rich were the main attractions. In those days is was still about wrestling and not about sex and ridiculous gimmicks.
.
Recently as I was waiting for a connecting flight out of Atlanta's International Airport, I saw a guys walk past that looked very familiar. The airport there is huge and there are always tons of people walking past. I put it out of my head and then the guys walked past me agaon. I thought to myself, "That guys looks like Jake the Snake Roberts." For you non-wrestling fans, Jake the Snake was a mainstay in wrestling in the 80's, 90's and still wrestles to this day. He got his nickname by carrying in a large boa constrictor to the ring and then laying it on his opponents chest after he had knocked him out with his pattented "DDT" finishing move!
.
I felt that I should stop him and talk to him because I had heard a few years ago that he had given his life to Jesus--but he walked on past into the crowded airport. I said to myself, "Well, if he comes by ONE MORE TIME then I know that I am supposed to talk with him." A minute later he walked up to the ticket counter of MY gate and asked what time the flight was leaving because he was supposed to be on it!
.
The plane started boarding right after that and my section was called first. As the plane filled up, he was not yet on board. Pretty soon nearly every seat was filled and I was wondering where Jake. Then here he came, one of the last to board and found his way to the back of the plane.
.
As he walked past me I said loudly, "HEY JAKE, you still serving Jesus?" Somewhat stunned he stammered, "Oh yeah, working hard at it every day" as he continued to walk towards the rear of the plane. My intention was to go and sit next to him if their was an empty seat, but this was a full flight so I had to wait and see what would come about once we landed.
.
We landed in South Bend, Indiana 2 1/2 hours later and I was one of the first off the plane. This is a small airport and my luggage was all carry on, so I made my way out to the front to wait for my ride. As I was loading, guess who walks out and stands right behind me--Yes, "Jake the Snake Roberts."
.
I quickly turned and walked up to him and said, "Hey Jake, I asked you on the plane if you were serving Jesus because rumor has it that you gave your life to the Lord." "Yeah man, I have just had a tough year. I had hip surgery and right now I am getting over food poisoning."
.
After a short little exhange, I said, "Alright I am going to pray for you" and I laid hands on him and asked the Lord Jesus to touch him physically and spiritually that he would be a voice for righteousness wherever he was. He thanked me and we went our ways.
.
I always dreamed of being a "Wrestler" when I was a kid, but you know--It is so much better serving Jesus and "body slamming" the devil then it would have been running around a ring in tights!