At events like Mardi Gras in New Orleans and Bike Week in Daytona people come trying to be "freaks" in how they look and act. As "freaky" as they try to be---they can't OUT-FREAK the JESUS-FREAKS!
.
I told the team as we went to the streets, "It's time to open up the FREAK SHOW and watch the Holy Ghost turn this thing upside down!" That is exactly what happened on our final night as we saw the power of God fall right in the midst of thousands of bikers, partiers, perverts, and drunkards.
.
Acts 3:19 "Repent, then, and turn to God, so that your sins may be wiped out, that times of refreshing may come from the Lord."
.
We saw this happen right before our eyes! Repentence unleashed a FLOOD OF REFRESHING. This is how it unfolded.
This young man (from Africa) was walking by as I stopped he and his friend. He was a backslider and as I shared the Gospel with him he was convicted and rededicated his heart to Christ...then I started praying out loud over him...and the Spirit of God filled the area...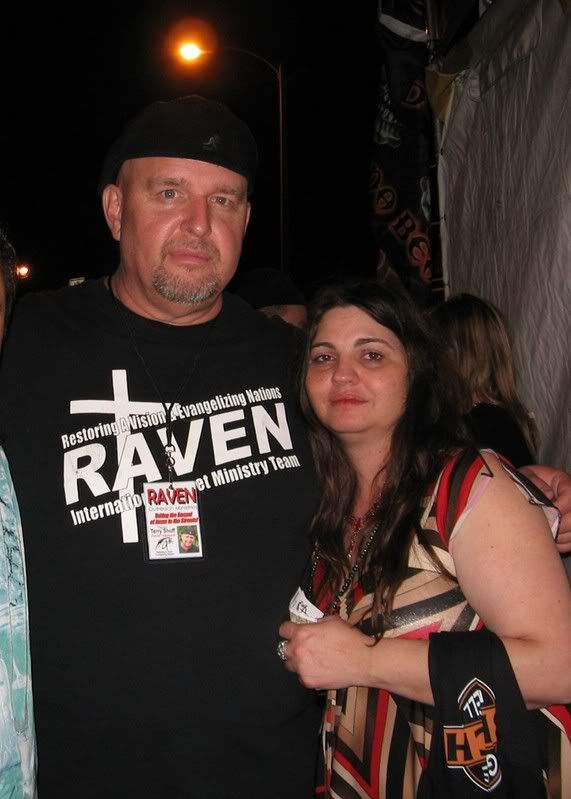 This young woman, Sabrina, came out of the crowd as I was praying and literally fell upon Pastor Terry weeping saying, "I have got to repent!" They were joined by two friends who had been partying with her that night. The woman with her was resistent, proud and beligerant---I finshed praying for the young man with the intention of "running interferance" for them--but God had another plan!
The lady started saying, "I AM AN ON-FIRE CHRISTIAN. I can be here and do what I want to do. I am once-saved-always-saved!" I began to challenge he with the Word of God. She would try to use a scripture out of context to justify here sin and I would give her the rest of it to reveal her sin.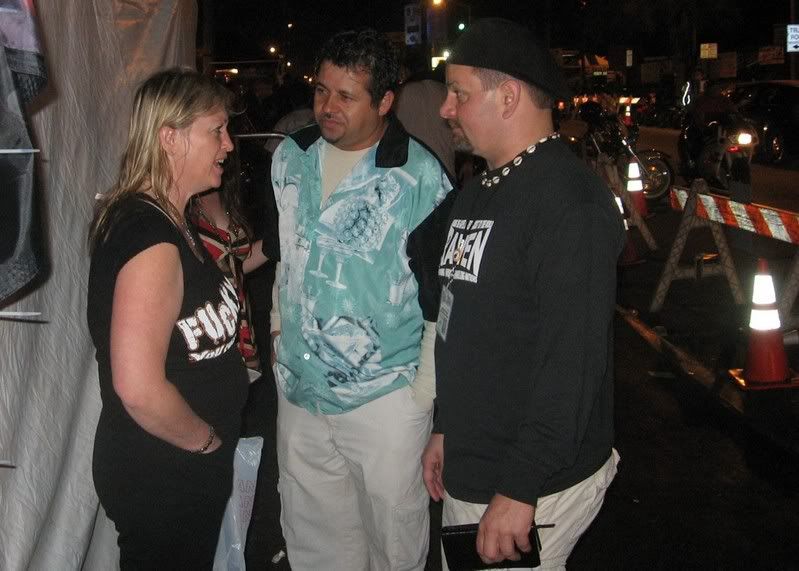 She claimed to be brought up in a "Word Church", so I held her accountable to "The Word" and continued to allow the sword of the Spirit to do its job! You could see the effects of sin being cut away as the scripure became light shining in darkness!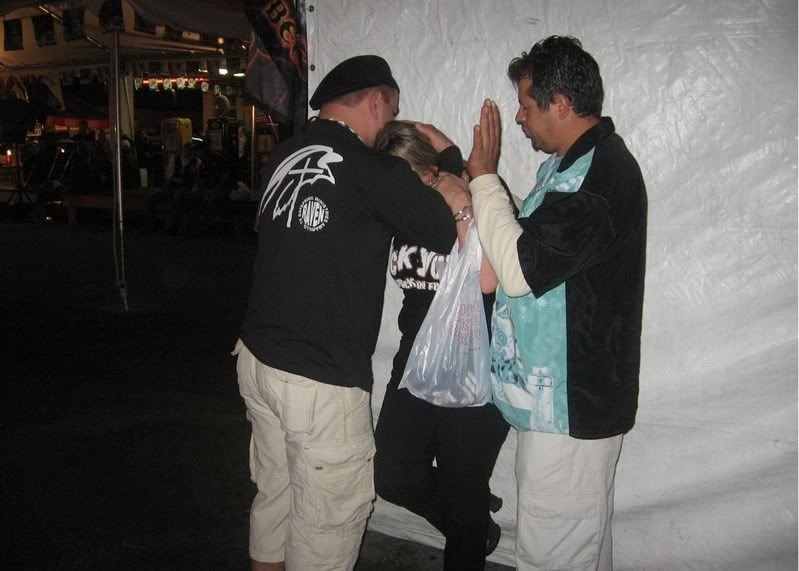 She finally asked, "Are you a SPIRIT-FILLED Christian?" I told her, "COMPLETELY!" and she said, "Show me" and I began praying in the Holy Ghost!! AND BOOM!! The FIRE FELL!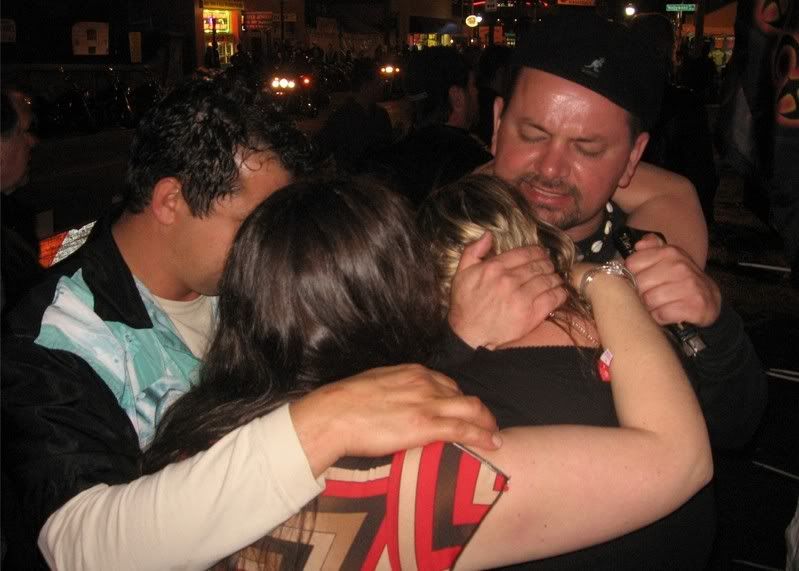 As I began to pray in the Spirit...it hit her and she started weeping AND PRAYING IN THE SPIRIT TOO! It then hit the guy with them (Leo) and he started weeping, crying out to God and praying in the Spirit as well!
Acts 2:17 "And it shall come to pass in the last days, says God, that I will pour out of My Spirit on all flesh; your sons and your daughters shall prophesy, your young men shall see visions, your old men shall dream dreams."
The woman (Linda) was weeping and said, "I can't even look up!" She was being transformed as the Holy Ghost was being poured out in power and cleansing this woman as she repented and humbled herself in the presence of the Living God.
This was their friend, Leo, who GOT NALED by the Spirit of God! He said that he had been following them trying to "pick them up" that night and was now deeply convicted and repentive.
He told me, "Please pray for me." The Holy Ghost --showed up and showed out--as the Spirit touched and restored this man. He said afterwards, "I have got to go now that this has happened and I will see you all one day in heaven!" Praise the Lord Jesus!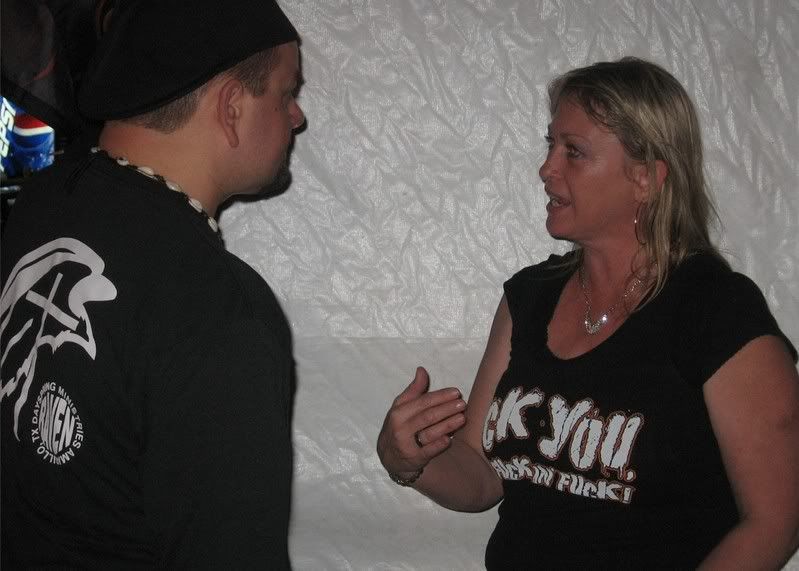 Linda was a brand new person afterwards and it was as though a weight had been lifted off her her life! She left that evening changed, transformed, filled with the Holy Spirit and ready to serve Jesus!